Jonathan P. Cormier, EA and Leonard D. Rea, EA, CFP® (Enrolled Agent, Certified Financial Planner™), serving businesses in the Massachusetts area since 1986.
Personal and Small Business Tax Preparation :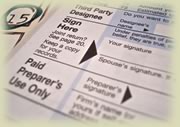 Personal and small business tax preparation is available year round for your convenience. Services are provided in a manner that best suits your lifestyle. Evening and weekend appointments are available or you can drop off, mail, fax, or email your tax information to us. A tax organizer is provided to help you gather the necessary tax information.
Use our Tax Organizer.
Make and arrange Tax prep appointments and drop off methods.
Electronic Filing:
All qualifying federal and state income tax returns are filed electronically at no additional charge.
Electronic Funds Transfer:
Income tax refunds can be directly deposited to your bank account and you can also pay tax liabilities electronically. This also includes scheduling your quarterly estimated tax payments in advance. Required information includes bank routing number, account number, and type of account.
Your Tax Records:
Upon completion, copies of all tax returns prepared are provided along with your original tax documents. We also provide copies of your tax returns and documents on CD-ROM in addition to or in place of the hard copies at an additional charge.
Copies of Tax Returns and W-2 forms:
We provide additional copies of tax returns and/or W-2 forms for a nominal fee. Copies can be emailed, faxed, or mailed to you or a third party, mortgage or loan company, etc.
Representation Services
As Enrolled Agents, we are authorized to represent you before all levels of the Internal Revenue Service.
Notary Services:
We notarize documents at no cost to you. We only request that you make a modest donation to the American Diabetes Association or charity of your choice.
Personal and Small Business Tax Planning:
Keeping up with tax law changes and forming our plan to take advantage of those changes ensures that you avoid paying more than your fair share of tax.
Make an appointment to learn more