Jonathan P. Cormier, EA and Leonard D. Rea, EA, CFP® (Enrolled Agent, Certified Financial Planner™), serving businesses in the Massachusetts area since 1986.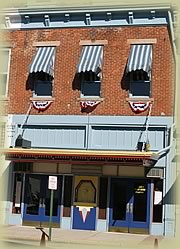 Cormier & Rea offers a wide range of services to assist the small business owner with all financial and taxation concerns.
Payroll Services:
We provide complete payroll services, including issuing checks, making payroll deposits, tax reporting, and W-2 form preparation and distribution. You have the option of phoning, faxing or e-mailing your payroll information to us. We can print checks and deliver them to you for distribution, or we can simply give you the net check amounts and let you write the checks. Most importantly we will make sure that your quarterly and annual payroll tax returns are completed accurately and on time.
Accounting:
Meaningful, well-organized financial records ensure that your business operations will run more efficiently on a daily basis and are the foundation of a successful business. We provide flexible assistance for preparing your financial records. We can help you set up an accounting system, consult with you from time to time, or provide full service bookkeeping. Our services are tailored to your business needs.
Accounting Software Selection & Implementation
Choosing the right computerized accounting software package for you can be difficult when faced with the wide variety of products currently on available on the ever changing market. As accounting professionals, we are exposed to most programs through trade journals and actual use. Our suggestion for most small businesses is Quickbooks®. If you need help with QuickBooks® software selection and implementation, we can help you set up your books and can teach you how to use QuickBooks® effectively.
( Quickbooks is a registered trademark of Intuit Inc.)
Business Entity Selection:
Choosing the form of entity of your business (e.g. "S" corporation, sole proprietor, limited liability company…) is a crucial decision that can have longstanding tax implications, positive or negative. We can assist you in evaluating the pros and cons of each entity type to help you determine the most advantageous form of business for your company.
Electronic Filing & Payment of
Business Tax Returns (withholding, sales, and entity tax):
Compliance with the requirement of electronic filing of tax returns and payment of business taxes: Let us relieve you of this burden. We provide electronic filing of tax returns and payment for Massachusetts and Connecticut sales and use, withholding, and business taxes. Tax returns are transmitted electronically and payments are debited from your business bank account.
Additional Services
See our full financial and taxation service menu or contact us to learn other ways we can help your small business run efficiently and grow!